Accelerate Energy Productivity 2030 Launch
What would you do with an extra $1000? Go on a vacation? Buy a new computer? Put it towards your kids' college tuition?
Well, a new initiative the Department of Energy and partners are kicking off today could save the average American family over $1,000 per year on energy by 2030.
Today, we met with industry leaders to kick-off Accelerate Energy Productivity 2030, an initiative supporting President Obama's goal to double our energy productivity by 2030.
Energy productivity is the gross domestic product produced per unit of energy consumed. Typically, it is reported in dollars per million metric British Thermal Units ($/MMBTU).  Simply put, energy productivity means growing our economy while using less energy to do it.
Our energy productivity has been increasing, but in order to meet the President's goal and enjoy the benefits that come with it, we need to speed up the rate significantly.
For consumers, Rhodium Group estimates that meeting the goal could save the average household $1,039 per year by 2030. For the U.S. economy, it could mean 1.3 million net jobs and $169 billion in reduced energy costs for businesses. Those savings will make American businesses more competitive in international markets, creating jobs here at home.
Energy productivity policies and technologies such as appliance standards, building codes, advanced manufacturing technologies, new transmission and the Corporate Average Fuel Economy (CAFE) standards for personal vehicles have already played key roles in this improvement. Without the energy savings from these efforts, U.S. energy productivity would be much lower than it is today—and energy bills would be much higher.
To accelerate this trend, we need diverse strategies in both the public and private sectors.  To ensure that strategies come from across the energy economy, the Energy Department support for this effort comes from our offices of Energy Efficiency and Renewable Energy, Fossil Energy and Energy Policy and Systems Analysis.  We've partnered with the Alliance to Save Energy and the Council on Competitiveness, to work with businesses and state and local governments on achieving the President's goal.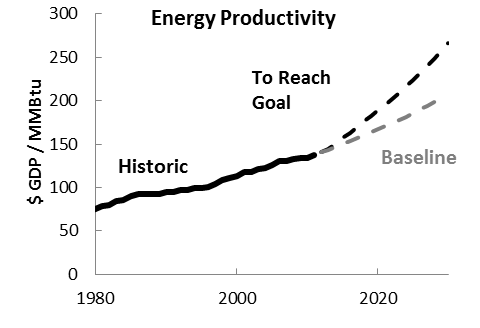 To continue this dialogue, we'll be discussing energy productivity with businesses and officials across the country next year, in three Regional Dialogues: Raleigh, NC in February; Seattle, WA in April; and Minneapolis-St. Paul, MN in July.
You can learn more about this initiative on our partnership website, www.Energy2030.org.